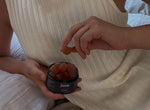 Introducing Juna's NEW Revolutionary Sleep Gummies
Saving the day, one night at a time.
You can finally sleep better with this new sweet treat — the FIRST EVER sugar-free, plant-powered gummies just entered the wellness space and THEY ARE GOLD, literally.
Made with a proprietary antioxidant sleep blend, Juna's new Nightcap Sleep Gummies are science-backed to help get deeper sleep and picky-palate approved to taste great. 
Not Your Kid's Gummies! How Juna just changed the gummy game — 
Apparently people love when supplements taste like candy… I mean, who chooses to choke down a fishy-tasting horse pill when you could have a sweet treat? But when you actually look at the nutrition label on some of these so-called "supplements" they are loaded with, and even coated with sugar. That  seemed pretty counterintuitive to us, so we've spent the last 2 years and over 50+ iterations with functional medicine experts to develop a breakthrough Sugar- Free Gummy Formula that's 100% good for you!  We've replaced the sugar with allulose and added food based functional actives to encourage your body to work at the most optimal level for sleep possible!
So WTF is allulose? Allulose is a low glycemic sweetener found in foods like figs that tastes like sugar but acts as a prebiotic fiber in the body.
Juna's new gummies are innovative, effective, taste great and truly ground-breaking! Made with Zero sugar and 100% FUNCTIONAL INGREDIENTS, they: 
Actually help you relax 

Actually help you get deeper sleep

Actually taste great

Keto-friendly for those of you who care

Actually won't all stick together making them impossible to access

No grainy coatings (chef and doctor formulated)

No Sugar

No Preservatives

No Synthetic ingredients
Why sleep with Juna?
Sleep is medicine, period. Sleep regulates your entire body; it influences energy, brain function, immunity, mood, emotions, metabolism, hormones and digestion to name a few. 
Our Nightcap sleep enhancing gummies are formulated with scientifically proven functional botanicals to help you fall asleep, stay asleep and support the body's powerful detoxification and renewal transformation that takes place while you sleep. 
WHEN TO USE:
To help you fall asleep

To help you feel refreshed in the AM

When you have hormonal insomnia

An overactive mind at night

To adjust to new time zones and combat jet lag
BENEFITS:
Optimizes circadian rhythms

Anti-Aging

Detoxifying

Improves daily productivity

Balances hormones 

Boosts mood, immunity and overall health
Bye Bye Brain fog: Stage 3, or deep sleep, is the powerful detoxification stage of sleep. It's when your brain enters glymphatic mode, where it resets by cleaning itself in cerebrospinal fluid and flushes out cellular debris to help you wake up feeling refreshed and clear-headed.
Balanced Hormones: your hormones are released in response to your circadian rhythm, or sleep-wake cycle. Importantly, sleep regulates cortisol (AKA our stress hormone) that regulates the other hormones in our body. When you wake after a restorative sleep, your cortisol peaks and activates your thyroid and estrogen to work optimally throughout the day.
Skin Repair and Renewal: stage 3 deep sleep is when your skin and tissues regenerate, collagen production is activated and cellular renewal peaks. Talk about beauty sleep!
Improves Gut Health: a healthy sleep cycle encourages the body to produce the hormone melatonin (regulates sleep/wake cycles) and prolactin (a growth factor that promotes REM) have been found to improve the good bacteria in the gut, support digestion and boost metabolism.
Meet the superhero ingredients in Juna's nightcap gummies:
Proprietary Antioxidant Sleep Blend:
Chamomile- binds to receptors in our brain and lowers cortisol to help us release the stress of the day.
Passion Flower- works to prolong Stage 3 sleep or Deep Sleep when your body, skin, and brain repair themselves. More time in Stage 3 Deep Sleep = a restored brain and plumper, younger-looking skin.
Tart Cherry: anti-inflammatory, loaded with vitamin A, rich in melatonin and adds natural tart flavor.
Elemental Magnesium Blend: a blend of 72 trace minerals and magnesium citrate to support neurotransmitter and hormone regulation which resets sleep-wake cycles and binds to (GABA) receptors in your body to produce calming effects.
Phytomelatonin: derived from the plant St John's wort.[ Delivers 0.24 mg Phytomelatonin ] a micro dose of melatonin to encourage the body to produce the amount of melatonin it needs for optimized sleep.
Each gummy contains an MIT  scientifically backed  microdose —- no other melatonin supplement on the market offers this!
Proprietary Amino Blend for Relaxation:
Wild Jujube (GABA): promotes sleep and relaxation, may reduces stress and anxiety, and boosts healthy digestion.
L-tryptophan: increases the body's natural melatonin levels.
FULL INGREDIENTS: Allulose*, Pectin, Natural Flavors, Citric Acid, Hemp Extract, Sodium Citrate, Natural Colors, Wild Jujube, Magnesium Blend, Phytomelatonin (from St. John's Wort), Chamomile Extract, GABA, l-tryptophan, Passion Flower Extract.
*Allulose is a low glycemic sweetener found in foods like figs that tastes like sugar
but acts as a prebiotic fiber in the body.
|KETO FRIENDLY | ZERO SUGAR | Plant-Powered|
FLAVOR:  Moonberry
Tastes Like: A naturally delicious berry blend that comes straight from the farmstand.  
HOW TO USE:
Take 1 gummy nightly before bed. Yes, ONE is all you need;)
Nightcap Gummies: are available nationwide through junaworld.com (SRP $42).