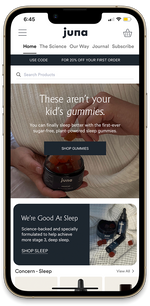 The Juna App
Fight stress from the palm of your hand.
The easiest way to place your orders, manage your subscriptions, and get first access to new products and exclusive offers. Stay on top of your order status, because we all know when you need your Juna, you neeeed it.
Save 20% on your first in-app purchase with code APP20. Simply search Juna in the app store or click below to get started.