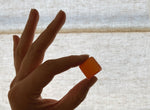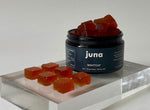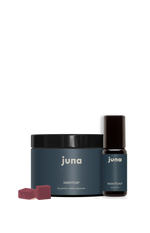 91% of users report deeper sleep and lowered stress levels
How to Use
Eat one gummy nightly before bed and roll the essential oils on pulse points such as wrists, behind ears, and the soles of your feet. For best results, reduce screen time 2 hours before bed and lower thermostat to 68-70 degrees to prep your body for superior shut-eye. *This product is best-used cumulatively to reset internal rhythms.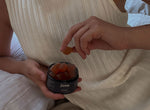 Why It Works
Elemental Magnesium
72 trace minerals and magnesium citrate to support neurotransmitter and hormone regulation which resets sleep-wake cycles and binds to (GABA) receptors in your body to produce calming effects.
Increase Stage 3, Deep Sleep
Formulated with science-backed plants like Passionflower to help increase stage 3, deep sleep when your cells renew.
Antioxident Rich
Proprietary blend of antioxident-rich botanicals to help engourage relaxation and deep sleep.
Doctor Formulated
Formulated by leading doctors, chemists and women's health experts to enhance sleep.
Phytomelatonin
Derived from plants, a miscrodose to encourage your body's own optimal production of melatonin.
Sugar-Free Formula
Instead of sugar, we use allulose. A low glycemic sweetener found in figs that tastes like sugar but acts as a prebiotic fiber in the body.
Plant-Powered
5 Star Rated
3rd Party Tested
Organically Grown
Female-Founded
Plant-Powered
5 Star Rated
3rd Party Tested
Organically Grown
Female-Founded
Ultimate Sleep Duo
The Nitty Gritty
Key Ingredients
Primes liver detoxification pathways and decreases cortisol levels in the brain, helping you enter those deep, reparative stages of sleep. chamomile is commonly regarded as a mild tranquilizer, digestif and immune booster.
#000000;">encourages longer stage 3 (deep sleep cycle). more stage 3 sleep = more time your body spends in cellular regeneration, aka age-reversal mode. this stage is also when our brain enters glymphatic mode (this is where the brain actually washes itself to clean out the waste leaving you feeling refreshed the next day).
#000000;">nown for its natural anti-inflammatory properties, is loaded with vitamin a, is rich in melatonin, and tastes great.
#000000;">a blend of 72 trace minerals to support neurotransmitter regulation and regulation of the hormone melatonin, which guides sleep-wake cycles in your body and binds to (gaba) receptors to produce calming effects.
derived from the plant st john's wort.[ delivers 0.24 mg phytomelatonin ] a microdose of melatonin to encourage the body to produce the amount of melatonin it needs for optimized sleep.
Encourages sleep and relaxation.
#000000;">may increase the body's natural melatonin levels.
Tasting Notes
Berry Sunset
Origin/Vintage
California
Full Ingredients
Allulose*, Pectin, Natural Flavors, Citric Acid, Hemp Extract, Sodium Citrate, Natural Colors, Wild Jujube, Magnesium Blend, Phytomelatonin (from St. John's Wort), Chamomile Extract, GABA, l-tryptophan, Passion Flower Extract. So WTF is allulose? Allulose is a low glycemic sweetener found in foods like figs that tastes like sugar but acts as a prebiotic fiber in the body.
None of the Ugly Stuff
Made without GMOs
pesticides
heavy-metals
non-organic ingredients
gluten
nuts
sugar
dairy
Results
This product is a 3rd party lab tested and verified for potency, purity (no Heavy metals, microbiological and bacterial contaminants, pesticides, volatile organic compounds), and efficacy.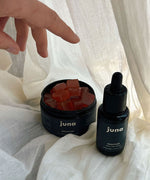 recommended products
Complete the Ritual