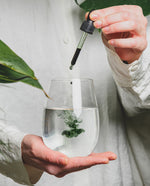 The Healing Power of Chlorophyll: A Guide to Detoxification
Meet Chlorophyll, a super hero ingredient in Juna's Detox Drops as well as many foods we consume everyday with compelling benefits for detoxing the body and clearing the skin.
So what is Chlorophyll?
Chlorophyll, often referred to as the life force of plants, is the natural compound present in green plants and algae that gives them their signature, deep green color. It is known for its powerful antioxidant complex and is one of the most potent sources of detoxification in the world. At a high level, chlorophyll absorbs sunlight and changes it into energy by a process called photosynthesis. At a molecular level, chlorophyll is almost identical to haemoglobin, the oxygen carrier in our blood which is why some people refer to it as the "blood" of plants. While the full scope of its healing powers have yet to be explored, we know taking chlorophyll drops amplifies the oxygen supply in the body on a cellular level optimizing energy production, boosting overall metabolism, clearing impurities and cellular waste, supporting a strong lymphatic system, naturally stimulating the organs, increasing gut flora and supplies the brain with clarity.
Why detox with Juna's chlorophyll 
The science is in and chlorophyll is the ultimate ingredient for the body to feel clean, efficient and restored. Juna uses the highest quality ingredients and adds lemon, mint, and vitamin C to create a powerhouse Detox formula for a refreshing morning drink that actually tastes great. Just drop one dropperful into your morning water and drink!
Cleanse, Digest, Debloat
Since chlorophyll is a potent antioxidant, it also scavenges free radicals in the body which are responsible for causing oxidative stress and cell damage. As the blood passes through the liver, chlorophyll promotes the liver's cleansing and detoxification process supporting better digestion and elimination. A healthy liver equals a healthy body and brain. Brain fog is a symptom of toxic buildup in the liver, which chlorophyll helps to absorb. Once the toxins are eliminated from our liver the rest of our organs, tissues, muscles, digestive system become nourished and our emotional, physical and energetic body thrive. More on the benefits of liver detox by expert medical medium here. Additionally, when chlorophyll is ingested, it increases the beneficial bacteria in the digestive tract, aiding digestion. It is also antimicrobial, so it helps get rid of all the harmful bacteria at the same time.  Chlorophyllin, a supplemental form of chlorophyll may work as a prebiotic that can modulate gut microbiota to suppress inflammatory signals and restore bacteria to relieve bloating fast, helping us feel better from the inside out.  
Reset and Boost Metabolism
In addition to improved digestion, chlorophyll may be beneficial for metabolism. Chlorophyll optimizes detoxification by speeding up waste elimination, balancing fluid and glucose levels  and reducing constipation. Additionally, preliminary research shows chlorophyll not only supports metabolism but may increase the likelihood of success with weight-loss efforts. Research also shows that chlorophyll helps balance the release of hormones that make us feel fuller.  While the studies so far have mostly looked at the weight-loss effects of chlorophyll taken by rodents, results suggest that it might help naturally suppress food intake and prevent body weight gain in humans too.
Healthy skin
Chlorophyll contains powerful antioxidants that contribute to a variety of skin benefits like helping with free radical damage contributing to anti-aging. The nutrients found in chlorophyll include vitamin B, D, & E, calcium, and potassium, which are key for healthy hair and nail growth. In addition to hair growth, chlorophyll has been found to actually slow down the progression of gray hair by continuously producing melanin in pigment cells in hair follicles.  Byrdie  and The Zoe Report demystify its potential to fight acne with improved skin in as little as 7 days and support anti-aging while celebrities such as Kourtney Kardashian and Kylie Jenner are daily advocates.
Chlorophyll can be consumed daily to:
_ oxygenate the blood to boost energy levels
_ to eliminate internal toxins caused by environmental stressors
_ to aid in digestion and reduce gas and bloat
_ the morning after alcohol consumption to aid in liver detoxification
_ for healthy skin/hair/nails
_ to increase circulation and blood flow
_ as an internal deodorant
_ balance glucose levels
_ to reduce blood pressure 
_ improve anemia  Researchers have suggested it may help treat hemoglobin deficiency disorders, such as non iron related anemia.
Foods rich in chlorophyll
Most deep green vegetables contain chlorophyll. Foods that are particularly rich in chlorophyll include: spinach, wheatgrass, mulberry, collard greens, mustard greens, chlorella, spirulina, alfalfa, parsley, broccoli, green cabbage, asparagus, green beans, peas, and matcha green tea. 
Using chlorophyll supplements
Chlorophyll supplements as most supplements vary widely in strength and formulation. The most common variations are liquid drops that can be added to water or another beverage like green juice or in capsule form.
Most liquid chlorophyll supplements recommend adding 60-100ml of chlorophyll per serving up to 3 x/day. For chlorophyll capsules ,dosages range from 100 to 300 milligrams up to three times per day. 
The majority of liquid chlorophyll on the market has a beautiful deep verdant color and though looks refreshing can taste very grassy and unpleasant. Quality is everything. When shopping for chlorophyll drops make sure you look for a product that is transparent about the source of the chlorophyll and any other ingredients in the formula. Look for a conscious, organic formula that is highly bioavailable so it gets into your blood and gets to work quickly. We recommend Juna's detox drops. They have won several blind taste tests next to leading brands because of their great taste. Formulated with chlorophyllin, a chlorophyll derived from organically grown mulberry leaves and then supercharged with copper and sodium to make it highly water-soluble so it can absorb quickly into the body.  Plus they have lemon, mint and citric acid (yes, vitamin C) to make the taste clean and refreshing.
Chlorophyllin supplements specifically are believed to help neutralize oxidants, which means they effectively decrease oxidative damage caused by variables like a poor diet, chemicals, carcinogens  and radiation.
Health risks
Natural chlorophyll and supplement Chlorophyllin have been in existence since the beginning of time with practically no known side effects. dangers. 
If your liver is overactive or you are already eliminating toxins from your body efficiently through daily bowel movements and exercise there may be no need to incorporate this into your everyday routine. 
Interaction with other medication
Certain medications, (photosensitizing drugs) specifically, may increase sensitivity to sunlight and may interact with chlorophyll increasing sensitivity to sunlight and susceptibility to burns. Excess chlorophyllin may induce occasional diarrhea and or discoloration of tongue and/or urine and usually subside quickly. 
It's also important to note that the safety of taking chlorophyllin has not yet been studied in women who are pregnant or breastfeeding. These women should not take a chlorophyllin supplement until they check with their healthcare professional.
These statements have not been evaluated by the FDA. This product is not intended to diagnose, treat, cure or prevent any disease. Consult with a physician before use if you have a serious medical condition or use prescription medications. A Doctor's advice should be sought before using this and any supplemental dietary product.