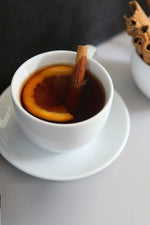 Seems like everyone is getting sick around you? Try this CBD immunity boosting balance tea that is sweet, spicy, and soothing. Combine these potent anti-inflammatory and antioxidant ingredients with the power of chaga and Juna Balance CBD to create the ultimate immunity elixir. Perfect for warming up on a cold day. 
Ingredients:

2-4 tsp Chaga Mushroom Powder

2 Cinnamon Sticks

1- 2 doses (10- 20mg juna Balance cbd drops)

Benefits:

- Chaga: Superfood, powerful antioxidant, immune booster.
- Cinnamon: potent anti inflammatory, antioxidant.
- CBD: calms the nervous system, boost immunity, relaxes tension, lifts the mood.
Taste:

Spicy, sweet, smooth.

How:

1. Infuse 2 cinnamon sticks into 4 cups of boiling water for 20min.

2. Add 2-4 tsp of chaga powder into the warm infusion until dissolved.

3. Float 1-2 doses of Juna Balance on top.

Mood: Day/Night; when in need of an immunity and cellular boost.