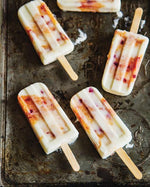 Immune-Nurturing Nectarine Pops
These healthy popsicles are the ultimate immune-supporting, mood-stabilizing treat for back to school. Whip up a big batch with the last of the summer stone fruit or berries, and reach for them throughout the week whenever you need a boost.
Benefits:
Let's go ingredient-by-ingredient.
Full-Fat Greek Yogurt
Rich in Vitamin D, known to support immunity.

Cold-Pressed Olive Oil

The ingredient all of your desserts have been missing. It elevates deserts with an unexpected richness and accentuates the sweetness of fresh fruit. A quality extra-virgin olive oil delivers vitamins E - a potent immune-booster.
Activates receptors in the brain to lower stress and regulate inflammation. Regulating your body's inflammation is essential to preventing a cytokine storm, one of the major causes of infection.
Developed by a sommelier, Balance has a light and delicate taste integrates tastefully with any treat.
Ingredients (makes 1 serving)
3 cups smashed nectarines
2 teaspoons lemon juice
6 tablespoons honey, divided
1 3/4 cup Greek yogurt
1/4 teaspoon ground cardamom
2 tablespoons BRIGHTLAND ALIVE olive oil
2 full droppers of 

 

Juna Balance
How:
Slice nectarines, and either remove most of the peel or leave it for more color. Place in small sauce pan with 2 tablespoons honey and 2 teaspoons lemon juice. Heat over medium flame until fruit is soft and bubbling, 5-6 minutes.


Remove from heat and blend in blender or food processor until you reach the desired texture, leaving a few chunky pieces. Pour into bowl and set in fridge to cool.


In a separate bowl, mix yogurt, cardamom, 3 tablespoons honey, and 2 droppers full of Juna. Taste, and add additional honey if desired.


Add spoonful or two of yogurt to popsicle mold, drizzle in a touch of olive oil, then add a spoonful of fruit. Repeat, adding a sprinkle of flaky sea salt somewhere in the middle, until you reach 1/4 inch from the top of the mold. Marble using a chopstick or skewer. Cover popsicle mold with accompanying top and add popsicle sticks. Freeze at least 4 hours before running warm water over mold to remove popsicles. Garnish with fresh mint, if desired.