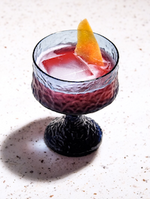 Hibiscus Grapefruit Negroni
A healthy twist on a class indulgence.
Ingredients:
- 1.5-2 teaspoons d

ried hibiscus flowers/tea

- 12 oz water

- 1 grapefruit juiced or 6 oz of grapefruit juice

- 3-4 limes- approx. 6 oz of lime juice


- Gin (we love Amass)
Benefits:
Hibiscus is high in antioxidants, good for boosting immunity and supporting healthy digestion.
How to:
Steep boiling water and flowers for 1 hour. Then sweeten 8oz tea with 2-3 tablespoons honey, coconut sugar, or regular sugar. You want to make it a little sweet because this will be your 'mixer'. Use less sugar as you wish.

1. In a shaker combine below for each serving
- 2 oz hibiscus tea concentrate
- 2 oz grapefruit juice
- 2 oz gin or lime juice
2. Add 1 serving of Juna Balance CBD
3. Shake, and strain.

Garnish with lime, grapefruit peel or hibiscus flowers to make it extra special.
Recipe contributed by Meredith Baird, Plant-based Chef and founder of Nucifera Beauty