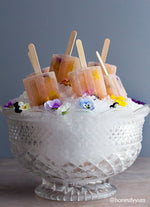 Looking for the perfect summer treat to stay cool... and calm? Inspired by our love for active botanicals (like the ingredients found in every Juna bottle), and of course Prosecco, we bring you this Summer Prosecco Pops recipe. Equal parts beautiful, tasty, and cooling. 
Adapted from honestlyyum.
Benefits:
• Pineapple: Not just high in vitamin C, fresh pineapple may also defend your body from harmful free radicals and disease, help your digestion by cleaning the body's organs and blood, increase your energy intake and boost metabolism – plus it tastes great!
• Edible Flowers: Many edible flowers are nutritious and contain potent antioxidants and anti-inflammatory compounds that can support your health. Learn more about their benefits here. 
• Juna's Balance drops: The effectiveness of Juna stems from our exceptionally-rich, single-origin, sun-grown hemp plant. Rich in cannabinoids, fatty acids, and terpenes combine synergistically to create a therapeutic entourage effect that's greater than the impact of CBD alone.
• Prosecco: Fun times. 

Taste: Sweet, Fruity, Floral
Ingredients:
_15 oz prosecco

_ 5 oz simple syrup

_5 oz lemon juice

_1 cup chopped pineapple

_ 2 droppers Juna Balance (or Ease)

_ edible flowers
How:
1. Add fresh pineapple to your blender. Puree until smooth and strain through a fine mesh strainer.

2. Transfer 5 oz of pineapple puree to a mixing bowl. Add the CBD, lemon juice, prosecco, simple syrup, and bitters. Carefully add the prosecco, as it will foam aggressively. Stir to combine.

3. Wash and dry the edible flowers and add them to the popsicle molds. I used violets. Pour the pineapple mixture into the popsicle molds. The flowers will float to the surface.

4. Place the popsicle molds into the freezer for approximately 30 minutes or until partially frozen. At this point you can gently mix the popsicle to evenly distribute the flowers. This is a good time to add the popsicle sticks too.

5. Place back into the freezer until frozen solid.

6. Once frozen, release the popsicles by running them under warm water for a few seconds.

7. Enjoy while pretending you are on a topless beach in the French Riviera.