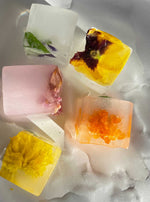 Welcome to the summer of 2021 where staying cool has never been more chill.
Beverages have been taken to a new level of savoir faire this past year.  As many of us have found ourselves playing bartender in our own kitchens, nothing could be as simple and crowd pleasing as our "chill" botanical ice. 
Step 1.) Purchase these ice trays from amazon for $28
Why? Because using deeper silicone ice trays makes professional style ice that is completely clear, slow melting and very sexy. Keeping you chill for longer;)
Step 2.) Fill almost all the way ( ¾ of the way) with tepid/warm water ( yep, warm). This will help the ice to freeze very slow and remove any bubbles.
Step 3.) Add 1 dose of Balance drops and 1 drop or orange blossom water to each cube.
Step 4.) Please 1 edible flower in each cube - make sure there is enough water to cover all the petals
Step 5.) Freeze for 12 -24hrs  no longer or the ice will lose its translucency.
Step 6.) Find your favorite glass. We love these Eve Coupe cocktail glasses from CB2. Place one in each glass,  top with topo chico or the La croix of your choice and enjoy