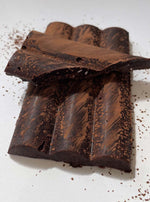 Secret Stash Adaptogenic Truffles
Looking for a brain-boosting treat that is almost too tasty to share? Our Secret Stash Adaptogenic CBD Truffles are loaded with plant-powered nutrients to reduce inflammation, lower stress levels, and satisfy that sweet tooth.
Benefits:
• Cocoa powder is rich in theobromine, which helps to reduce inflammation and can protect you from certain diseases. Since cocoa is rich in phytonutrients but low in fat and sugar, the calories you get from cocoa powder will be packed with healthy nutrients.
• Lions Maine: Research has found that lion's mane may protect against dementia, reduce mild symptoms of anxiety and depression and improve cognition. It also has strong anti-inflammatory, antioxidant and immune-boosting abilities and been shown to lower the risk of some diseases.
• Juna's Balance drops: The effectiveness of Juna stems from our exceptionally-rich, single-origin, sun-grown hemp plant. Rich in cannabinoids, fatty acids, and terpenes combine synergistically to create a therapeutic entourage effect that's greater than the impact of CBD alone.

Taste: Chocolaty, Delicious, Guilt-Free
Ingredients:
_1/2 cup Cocoa Powder

_2T Almond Butter

_1teaspoon Lions Maine (We like this one)

_1T Coconut Oil

_3T Raw Honey

_2 Droppers Balance
_

Shredded Coconut to Taste (optional)
How:
Mix all ingredients together except for the coconut. Press into a glass baking dish, or silicone mold of your choice. Dust with shredded coconut (optional) and refrigerate until firm (2hours) cut into pieces, dust with cocoa powder. Keep refrigerated and hide from your family.