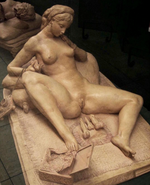 Best Vibrators In The Bizzzzz
Ok ladies, we are here to be your new "digital" best friend since we can't socialize and gossip like we use to. With this extra time at home, our team of unofficial, but highly qualified, women set to the internet to hunt down and test the best vibrators in the biz. We had some highs, we had some lows, we burned through batteries, and we sent our partners packing... all in the name of research! 
Here are the top vibrators we have been buzzing about.  
For the: #Influenced
She's sexy, she's cute, she's popular to boot! If influencers took you into their bedrooms you'd find the Aer Suction Toy by Dame. Let's just say lip service is the new bottle service and this vibrator is perfect if oral stimulation sends you over the edge. 
$95
For the: Most likely always wear heels
We all know one (or use to be one) — the woman who always shows up wearing heels and you're like shit, I thought this was just a casual thing. Well, the Vesper by Crave is for her! It's sleek, a little like fancy jewelry, reminds me of a stiletto heel, and get you off on the go. Just don't vibe and drive... that has to be dangerous. 
$69 - $149
For the: Blissful But On A Budget
If high price tags aren't your vibe, then add the Luna vibrator to your Amazon cart. Don't let the cheesy photoshopped photo of her using the vibrator on a neck fool you, this powerhouse has 20 Patterns & 8 Speeds!! 
$24.99
For the: Multitasker (aka 100 tabs open on her laptop)
Ummmm did Buzzfeed collab on a vibrator with Bellesa? Guess so and we aren't mad about it! Full disclosure I haven't tried this one yet but I'm sold from reading through the 881, 5 star reviews. The BuzzFeed AirVibe is the fusion of  g spot vibrator technology and some suction action. Apparently their "Pleasure Jets" are nothing but next-level and it comes in a cute little carrying case. I seriously just bought it while writing this. Happy vday to meday.
$59
For the: Friend who works out 4+ days/wk
Ever had a crush on your trainer? Say hello to the The Tennis Coach by Smile Makers This one is for all you toned-assed, workout leggings on the daily, pilates every morning types! Yes, I'm jealous since my ass somehow doesn't get toned by sitting on my computer writing about vibrators. 
$55
For the: Secret freak in the sheets
Single during a year long pandemic? Who cares if you can quarantine with the Le Wand Rechargeable Vibrating Massager! This vibrator can do more than any partner I've ever had and is the Winner of Cosmopolitan's Sexcellence Award for "Most Powerful Sex Toy". I mean we didn't know of such sexcellenece awards before but it definitely deserved the accolades. 
$129
For the: Modern Minimalist
Too pretty to hide in your nightstand, the vibe by maude will give you (and your pinterest board) wet dreams. What makes this simple and sleek vibe even better you ask? Well, it has a runtime of up to 2.5 hours, charges via USB, and is so discreet to travel with that you won't even care if the airport security personnel pull it out while crowds are around. Win, win, win!
$45
For the: Mom on the go
Move over Gwyneth's jade egg, this Allovers Kegel Ball with Tapered Head and Curve is perfect for all the mama's out there... especially the ones that pee a little when strong sneezes. Add this little guy to your Amazon cart with your next diaper delivery to help with Bladder Control, Pelvic Floor Exercises & Tightening. Just tell your partner you need a hour to yourself in the bedroom to "workout". 
$36